Climb to the Top of Yeti Mountain in Dicey Peaks, Now on Kickstarter
A great designer, a great publisher of casual games, great artwork, and a fun game concept: these all come together in Dicey Peaks, now on Kickstarter.
Dicey Peaks is a game we have been anticipating for awhile now (you may notice it on the cover of your favorite gaming magazine soon). For one, Scott Almes has repeatedly proven his talent as a game designer with the Tiny Epic series and the new Heroes of Land, Air & Sea which was featured on the cover of the Winter 2017 issue of Casual Game Insider. What's more, Calliope is a top-notch publisher that I trust to produce some great casual games. Tsuro and Roll For It! come to mind first and foremost.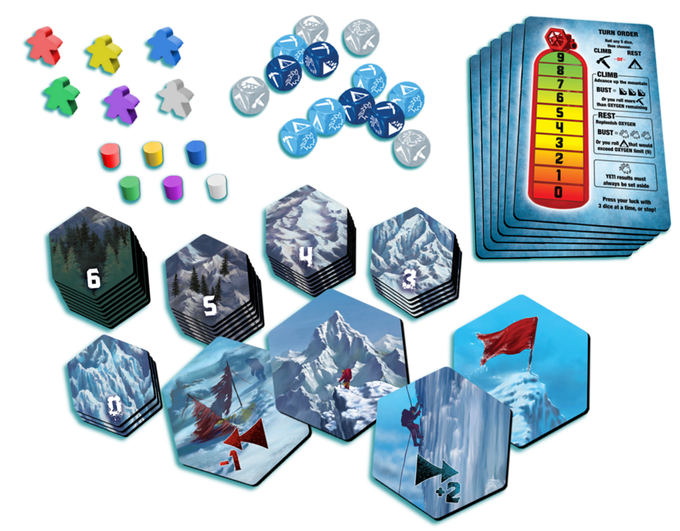 Just looking at the artwork, you can tell this game is no exception to the quality of Calliope Games' products. And the more you learn about the rules, the more you realize that it is a great fit for the type of games that we cover here at Casual Game Revolution. From the publisher:
Dicey Peaks is a thrilling tile and dice game for 2-6 players, created by acclaimed designer Scott Almes (the Tiny Epic series, Harbour). Racing to the fabled flag atop Yeti Mountain, players take turns rolling dice and skillfully choosing whether to climb or rest. As you advance, you'll reveal tiles that can help or hinder your progress. Avoid avalanches and watch out for the Yetis… for when they attack, you might lose more than just your turn! If you crave adventure, suspense, and danger, then scale your way to the top of Dicey Peaks!
If you like what you see, be sure to check out the new Dicey Peaks campaign on Kickstarter from now through April 22, 2017.