Convene Around These 5 Board Games Ahead of Convention Season
It's convention season, which means your gaming groups and social media feeds will be consumed by all the newness inundating the market. Some will tell you it's been a quiet 2023 so far, but that's about to change. Starting with the United Kingdom Game Expo (UKGE), continuing through Origins this month, and straight on through Gen Con in August and Spiel in October, it's time for board games to take center stage before wrapping everything up in December with PAX Unplugged when some of those Spiel games start making their way to North America in time for the holidays.
But what of the great games that came out at the tail end of 2022 and the beginning of this year? If you can't make it to a big-time convention but can go and support your FLGS, here is a list of games to check out and play. And even if you do find yourself in the mass of humanity at the bigger conventions, these are games worth your time and potentially your money.
Dice Manor
Arcane Wonders | 2-4 Players | 30-45 minutes
A smart and quick dice allocation and tile-placement game, Dice Manor challenges players to roll dice and strategically play the same numbers to add rooms to their palatial manors or increase advertising as you compete against others to build the most notable estates. Advertising helps increase your dice pool and end of game points, but there are also benefits to snatching up rooms, pairing them together, and being able to perform high-point tours where dice are placed in coordinating rooms (the die total and room number matching). Dice are rolled, players choose all the same of one number, and can place them all in one area or choose to place them across multiple areas of the shared board in hopes of rolling more the next time to add to those areas. But other players can swoop in and outbid in a five-round race to climb the corporate ladder at Mundane Manors, Inc.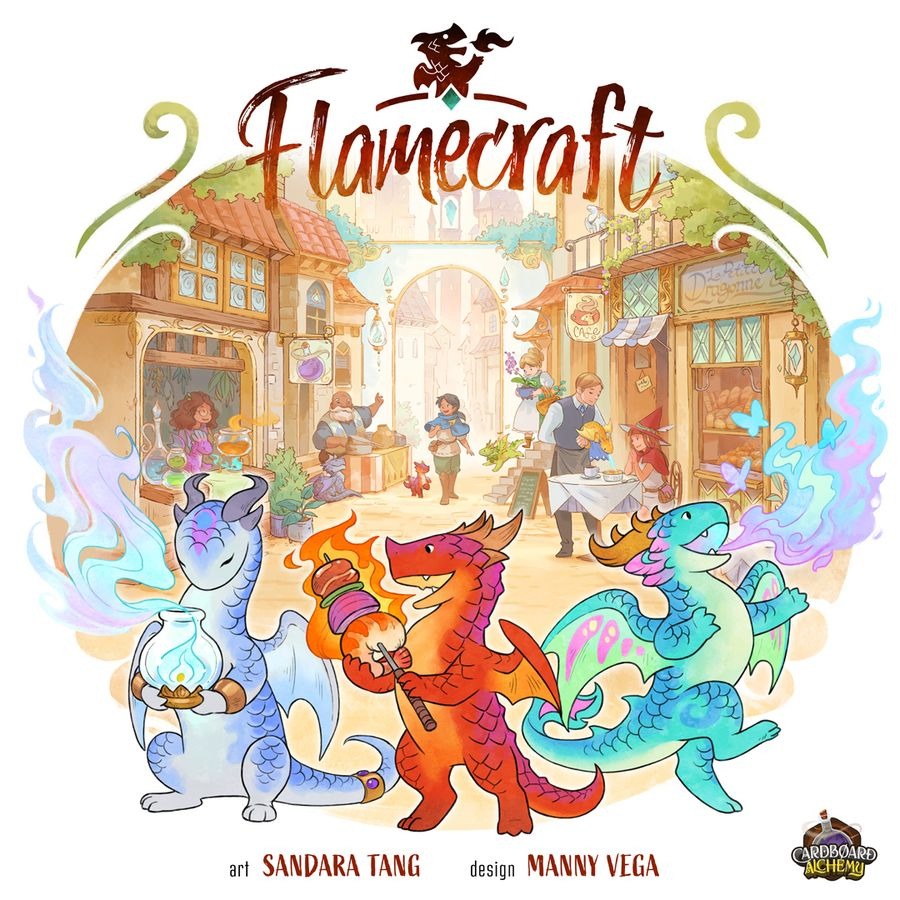 Flamecraft
Cardboard Alchemy/Lucky Duck | 1-5 players | 60 minutes
If you're walking the aisles of your FLGS or an exhibit hall in a convention center, the chibi-inspired dragon art from Sandara Tang will grab your attention. But the equally dazzling worker placement and cooperative and competitive push-pull of Manny Vega's worker placement and resource management extravaganza is just as eye-popping. Players take on the role of Flamekeepers, represented by impressive dragon meeples. Players only have one worker, moving from shop to shop across the town playing cards to gain actions and gathering goods to fulfill objectives. As players play cards at shops, they improve the benefits and actions of that shop while potentially gaining resources from other players looking to visit that shop. Once three cards have been placed in a shop, a new shop will be added to the town adding potentially new goods, actions, and even bonuses. Players can also spend accumulated goods to enchant a shop, gaining reputation (AKA points) and making it an even better space to visit. Players also have secret objectives that will gain reputation either during their turns or at the end of the game. The game ends once the last objective card is revealed, with remaining players having one last opportunity to gain reputation before determining the victor.
Bot Factory
Eagle-Gryphon Games | 1-4 players | 30-60 minutes
Vital Lacerda and casual gaming are anathema to many hobbyists, but Bot Factory – a clever and lighter interpretation of Lacerda's Kanban – is Lacerda at his most accessible. But don't be fooled, this is still Lacerda 101 so as "casual" an experience as this may be, it certainly will prime players who are not new to the hobby and are ready for the curve into learning more mid-weight offerings. The board is separated into four sections, and players will be moving their worker meeples to one of these areas to collect blueprints and robot parts to eventually assemble toy robots. The fourth area, Finance, is where players can increase the point value for their completed robots. Considering players can't stay put at one department, thinking about where to go, when to go there, and maximizing each turn is key. The interaction between players is a fine balance between getting in the way or getting the most out of a spot by getting there first. The art design is light, fun, and wholesome, and while it's unlikely many folks decide to graduate to Kanban, they will certainly get the desire to check out borderlands where family gaming meets more Euro-inspired gameplay.
Earth
Inside Up Games | 1-5 players | 45-90 minutes
Earth feels the climax of what's been a monumentally excellent 5-year cycle of tableau-building games that has included Everdell, Wingspan, and Ark Nova. Players will be working to be the first to construct a 4-by-4 grid of various flora that is driven by various inputs; by goal cards drawn individually as well as ecosystem cards on a shared board that offers options for end-game scoring as well as points for completing objectives ahead of other players. Players will collect soil to plant cards in their tableau but can also grow or add sprouts on these cards to obtain resources or end-of-game points. At first, the number of options within each of the game's four main actions may seem intimidating — especially with the wealth of points on offering — but as the game develops, players of any experience level will find a path toward relevancy and competitiveness. The color palette and real-life photography of the cards also make Earth a valuable teaching tool for parents and teachers who may want to introduce youngsters to the varied and beautiful ecosystems of our planet.
Blazon
25th Century Games | 2-4 players | 30-60 minutes
In a land of hot publishers really finding their niche in the market, 25th Century may be rare because it tends to splash around genres and mechanics but all of it feels distinctly at home in their canon. Blazon breaks down into simple actions with sophisticated depth. Draw cards from the tincture or device decks (or one from each) and choose which ones to place on your herald. Distinction cards will help players decide what to play and where to play them in a constant race to fulfill these goals first to gain the most points. When playing a card, you must note its prestige value as well as its color (tincture) or symbols to legally place it on your shield. To play a card, you must discard an equal or greater prestige value to the card being played, then earn the prestige points. This leads to a combination of wanting to play high prestige cards but having to discard an equal amount AND try to fulfill as many Distinction cards as possible in a dash to be the first to 50 total prestige points, fill your shield board, or finish meeting the requirements of all five displayed Distinction cards. It's fast, sharp, and strategic in all the best ways that even your AP friends will play faster than normal.