Advertising and Marketing
Reach thousands of game stores and casual gamers through our print and online marketing packages! If you have a message to share about casual board, card, dice, or party games, you have come to the right place: 20,000+ monthly website visitors; 2,500 game stores; hundreds of retail stores including Barnes & Noble and Books-A-Million locations; thousands of subscribers, press, and industry professionals.
Why advertise with us? We are passionate about casual games and the benefits of playing them. We are endlessly striving to gather the most targeted audience of casual gamers and casual game stores available anywhere, to not only benefit you and your company, but to grow the industry as a whole.
Reach Your Target Audience
By advertising with us, you'll be able to reach the most targeted audience available for casual board games. Other websites and magazines miss the mark by either focusing on toys for kids or games for "serious" gamers.
Many Marketing Solutions
From Kickstarter previews and online ads to print advertising and sponsor listings, we offer a wide variety of marketing solutions. With all of our options, you are sure to find the perfect solution to supplement your marketing needs!
Affordable Rates
Our services are competitively priced so you can keep more of your hard-earned money in your pocket. In addition, our attention to quality and detail will give you the highest probability of return, making every dollar well worth it.
Media Kit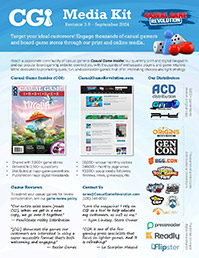 Our media kit contains all of the information you will need to begin advertising with us, including our rate cards, deadlines, ad details, and specs. If you have any questions or requests for customized ad packages, please don't hesitate to ask.
As soon as you're ready to reserve your ad space, please contact us. Ad reservations can be made up to one year in advance, so be sure to make plans as early as possible to secure the best spots.
Contact Us
Please email us at any time or call us during regular business hours, MST, Monday through Friday (excluding national holidays). If you have a game you would like to submit for evaluation, please refer to our game submissions page.
Sales@CasualGameRevolution.com
1-520-344-0095
Casual Game Revolution
18521 E Queen Creek Rd
Suite 105-321
Queen Creek, AZ 85142