Bear with Me: A Preview of Yukon Salon
Have you ever wanted to do a bear's hair? Have you ever looked at someone's beard and imagined how you'd style it? Yukon Salon is your game!
Gameplay
The goal of the game is to earn points by styling lumberjacks' beards and bear's hairdos. Several client cards are drawn from the deck and laid out in the center of the table. Whenever a player takes a client card, it gets replaced by another one immediately. The game continues until all clients have been chosen.
On your turn you can take two actions. Available actions include seating a client (taking it from the center of the table and placing it in front of you), drawing a style card, and playing a style card onto a seated client. You can take the same action more than once.
Each style card has a style that can either be played on a lumberjack as a beard or played on a bear as a hairdo. It will be worth a different amount of points depending on how you use it, and will also grant you a special, one-time bonus that activates after a successful styling. These bonuses are different based on whether it's being used as a beard or as hair. Each client also has a unique ongoing ability which goes into effect once you've successfully styled them.
Once you play a style card on a client, you add the client's and the style's point value and roll two dice. If you roll equal to or greater than their point value, the client likes your work, you set them aside, and score them at the end of the game. If you roll less than their point value, you can discard the style card but keep the client, or you can choose to discard style cards in order to increase your result. You also have the choice of trying to talk your client around to liking the style, which allows you to reroll the dice. In order to do this you check the client's point value and then must make that many arguments as to why the style suits them (such as, it really makes your muzzle stand out) while talking directly to the client card. This gets trickier as the game progresses, as each argument must be unique and cannot match one that has already been used in the game.
At the end of the game, the player with the most points wins.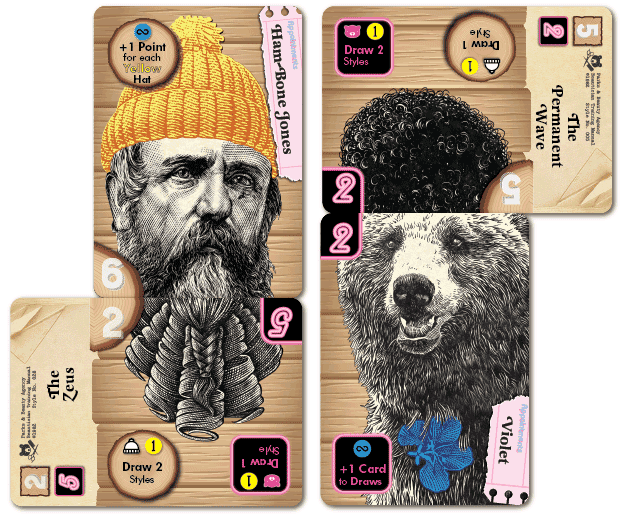 Review
Yukon Salon has a great sense of humor. The artwork on the hairstyles is wacky, absurd, and wonderful. The fact that you're making elaborate beards or styling bears is silly and delightful. There's just a sense of good humor in the game and it's so quick to play that it really does make for a light, fluffy, fun card game.
The part of the game where you try to talk your clients around can get quite silly, which is really enjoyable, but some players can become self-conscious and therefore be at a disadvantage. Still, if you're playing with a group where everyone is comfortable, it's a really unique twist to an otherwise more or less straightforward card game.
There's a little bit of strategy in choosing your clients, as some will give you scoring bonuses at the end of the game while others will give you more immediate help, and you to have to balance the hairstyle's one-time abilities with how likely it is that you will be able to roll high enough in order to have your client accept the style. But for the most part, Yukon Salon is pretty light, which fits the game well.
If you're a fan of light card games, this is a great one. It's different enough and quirky enough to set it apart from other games and there's just a good natured feel to it. Check it out on Kickstarter, and see for yourself if those bears don't win you over.
Pros: Great artwork, funny gameplay, light and quirky
Cons: Some players may feel self-conscious talking to the clients
Disclosure: this preview is based on our evaluation of an unpublished prototype of the game, which is subject to change prior to publication. While a modest payment was received to expedite the review process, our thoughts and opinions expressed here are honest and accurate.