A Math Teacher, a Game Idea, and a New Game Designer Is Born! Interview With Glyphics Designer Eric Olsen
Here at Casual Game Revolution, we love a good success story. When normal, everyday people have a great idea, we believe they deserve to be heard. This is why we jumped at the chance to interview Eric Olsen, a teacher at ITCA in Boise, Idaho, who recently published his game, Glyphics, in partnership with Big G Creative.
Eric had an idea for a party game while stuck at home with his family during COVID. Two years later, his game is now professionally published and available on Target shelves everywhere. We were curious to find out more about this process and whether he has more games in the works. Here is what he told us:
CGR: Hi Eric! Please tell us about yourself and your gaming preferences. What is your favorite game?
I love so many games it is hard to choose a favorite. Some of the games that I really enjoy for game nights with friends and family include KOT, Alhambra, 7 Wonders, Lords of Waterdeep, Sushi Go, Wits & Wagers, and Rage. Maybe rotate in a classic like Taboo every so often. I also enjoy strategy games like Chess, Go, and Stratego, and word games including Boggle, Scrabble, and Bananagrams.
CGR: Please tell us more about your game, Glyphics. How did you first come up with the idea?
My kids and I were sitting around the kitchen table. There were a few odds and ends on the table. I put them together to make a picture (I actually have a picture of that first thing I made. No idea I was going to make a game — just taking a picture to take a picture, but I'm glad I have it!). My kids (12 and 14 at the time) guessed what I made. Then they wanted to take a turn. I thought, "Gee, that's pretty fun — maybe I could make more stuff if I used all the crap in the junk drawer." I quickly realized the shapes in the junk drawer were pretty limited and started to think about how I could get more shapes. Then one thing led to another. I borrowed a 3D printer and started making a few early cards and it evolved from there.
CGR: What made you decide to seriously pursue it as a professional game?
I believed the idea was great, but, as you know, often someone else has already had the same great idea. I talked to my wife and shelled out $800 for a top-notch patent search. When that came back negative I decided I would go all in! (I was nervous to open the email from the patent search company.)
CGR: Please tell us about the process you followed for pitching your game to publishers. Did you go straight to publishers, or did you first consider self-publishing?
My creation process involved a LOT of playtesting with friends and family. I have a group of friends that I meet up with every year just to play games all weekend. They were invaluable throughout the entire process from helping me evaluate the cards and pieces to refining the rules and brainstorming names. My family also helped out a lot. I believe I got an exceptional game because of all the input from friends and family.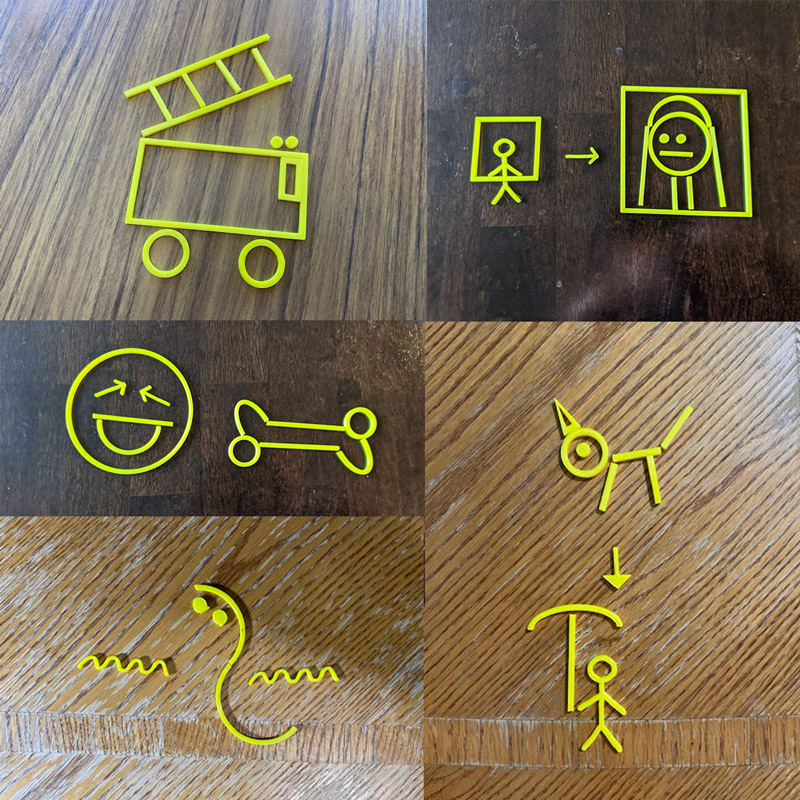 When I started, I knew absolutely nothing about getting a board game into a store. I didn't know about game publishers. Because I knew I knew nothing, I reached out to try and find a mentor. I sent an email to Bananagrams. Surprisingly they reached back out to me and I ended up having a couple of amazing conversations with Rena Nathanson, the CEO of Bananagrams. I reached out to them because they are still a family-run business. She discussed some of my options with me and was extremely encouraging. Through Rena, I met Mike Fisher and David Blanchard at GPI (Grand Prix International), a highly reputable game manufacturing company that is now also creating a name for itself in the industry as a leader in creative game development. I believed in my game so strongly I was prepared to self-publish. However, I worked out a win/win situation with GPI. They acted as my agent and Glyphics was snatched up very quickly by Big G!
CGR: Where will you go from here? Do you have plans to design more games?
I didn't realize that game development was a "thing" one could do. When I realized how much I enjoyed the creative process I started making more games. My second and third games have multiple publishers (including a few of the giants) interested. However, I am considering taking at least one of them and self-publishing on Amazon because they are both card games. One is a push-your-luck game with a really cool twist. The other is a new version of an older game. My fourth game is just starting to get shown. I really like it. There are a few publishers interested in it already. It uses colored scrabble tiles (a lot of 3D printing again)! I have another half-dozen in development, including my first preschool-age game. If it works out, I would love to try game development full-time in the future.
There you have it. Eric Olsen is a reminder that gaming dreams really do come true. We wish him the best of success and look forward to seeing lots of great casual games from him in the future! If you're interested in following Eric's progress, he can be found on LinkedIn and Facebook.